No-Cost Teleprompter
Turn a laptop into an instant teleprompter
On a recent location shoot, one of the actors was having problems with his lines. The director declared that we needled a teleprompter. While one of the assistant producers got on his cell phone to locate a rentable prompter, I had an idea.
My first thought was to simply load the text into Microsoft Word on a laptop and have a production assistant (PA) click on the scroll arrow (moving down the document) so the actor could read off the screen. Testing this idea, I saw quickly that the motion was too jerky and it was difficult to read convincingly. Then I noticed the scroll button that is available on most portables (see middle blue button on the Thinkpad pictured below).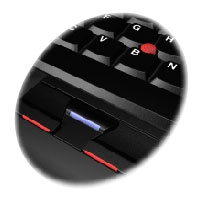 Clicking on the scroll button puts the computer in scrolling mode. The mouse position then determines the speed of the scrolling. If the mouse is left in the same position as when the scroll button was clicked, there is no scrolling. Pulling it downwards a little bit causes slow scrolling. Pulling further downwards caused faster scrolling.
I suggested it to the gaffer. We were able to commandeer a PA and setup an external monitor right under the camera. That way the PA could watch the laptop's monitor (facing him) while the actor could read off the external monitor that showed the same image.
We loaded the script into Word and increased the font to a large size. With this improvised teleprompter, the PA could easily synchronize the speed of the scrolling text based on how quickly the actor was reading.
This nifty little free teleprompter got the shoot rolling again and worked perfectly. It also shaved an unexpected expense off the budget. We used it several more times on the shoot with great results. I'll keep it mentally filed in my movie making bag of tricks. So should you!