Screenwriter Jumpstart poster
Key writing information just inches away!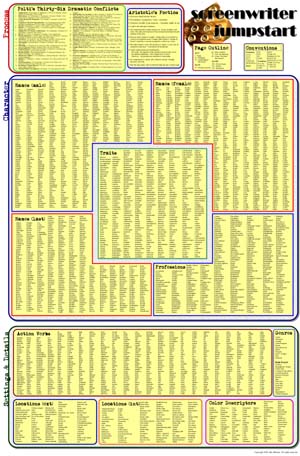 The walls around my writing area had become cluttered with reference lists. When I write fiction, I like to have lists of possible character names, traits, locations, and other information at hand. These lists give me a "jumpstart" to speed my writing so I can quickly fill in these details -- then I can keep my focus on characterization and story.
Instead of all the individual pages cluttering my wall, I decided to concentrate all of this information onto a single poster. The Screenwriter Jumpstart Poster is the result.
I hope you'll find this poster as useful to your writing as it has been to me. The poster includes the following information:
Summary main points of Aristotle's Poetics
Polti's 36 Dramatic Conflicts with movie examples!
630 male names
730 female names
500 common last names
750 Action Verbs to electrify your writing
460 character traits
120 color descriptors
200 sample locations (both interior and exterior)
350 professions
List of most common genres and sub-genres
General script page outline (with Plot Points)
Script conventions (FADE IN, FADE OUT, etc.)
The poster is 23" x 35" and is available in full color for $24.95.
Perfect for you or give as a gift for an aspiring writer!