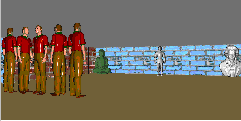 Have fun programming !
NewWorld3D is an ActiveX control that you can use to create virtual worlds for use in your demo, game, or educational product. Royalty-free distribution of the control in your final application means you can create commercial products!
Create a map of a world, add some creatures, and you instantly have a 3D world you can explore or share with others. Program creature behaviour, add or remove walls, or control the user viewpoint all with simple Visual Basic commands.
List Price Only $49.95!
---
LATEST NEWS
The major upgrade to NewWorld3D is here!
It has dozens of new features an all new rendering engine. Don't worry, though, because the new control is backwards compatible so all your current code will be useful. The new engine will feature high resolution, variable screen size, walls of varying heights, non-orthogonal walls, advanced overlays, moving textures, texture animation, performance tuning, scalable creatures, and more!
Download the sample NewWorld3D 1.5 executable (Zip file 130K)
Simply place the files contained in the Zip in a single folder and double-click NW3D15.EXE. Click on the NW3D Toolbar icon and enter a NewWorld!
Take a look at these screen shots of the update.
Best of all, all current owners of NewWorld3D will recieve the upgrade FREE! Order your copy of NewWorld3D today so you'll receive the upgrade the instant it becomes available. Registered owners go to the Updates section and download NW3D 1.5.
---
Owners of NewWorld3D - You'll find the NewWorld3d 1.2 upgrade in the updates section.
---
Click here for ordering information.
Downloadable NewWorld3D demo
In the Demos section is a downloadable demonstration of the NewWorld3D control so you can see the control in action.
Check out What's New with NewWorld3D.
---
NewWorld3D is the first control of its kind because:
You can create complete applications that feature interactive real-time 3D worlds that will run well on a machine without a graphics accelerator.
You can use the programming skill you already have in every thing from Microsoft Excel to Borland Delphi to make exactly the world you want.
The control can be used in conjunction with any other standard features of your programming environment such as sound files (WAV or MIDI), multi-media controls, or even Internet feeds. Anything you can normally access, you can bridge into a 3D world!
You can finally create custom interactive 3D worlds for games, education, training, or exploration. Click here for just a few possibilities we can imagine.
The NewWorld3D Construction Kit can be purchased from VBXtras. It includes the control, complete documentation, the NewWorld3D Map Editor, Image Compiler, and numerous sample files.
The NewWorld3D Construction Kit is available now!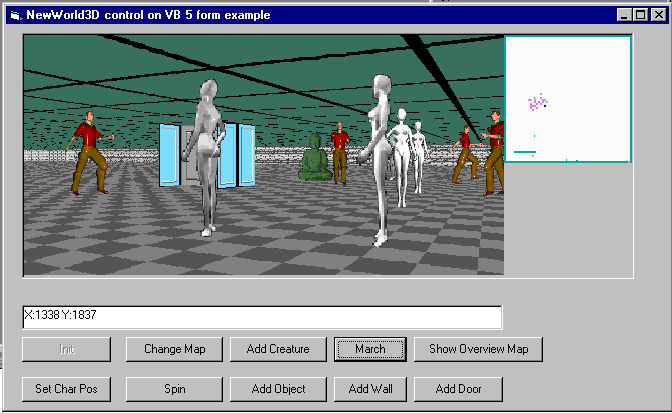 The NewWorld3D Construction Kit can be purchased from VBXtras. Click here to jump directly to the product.